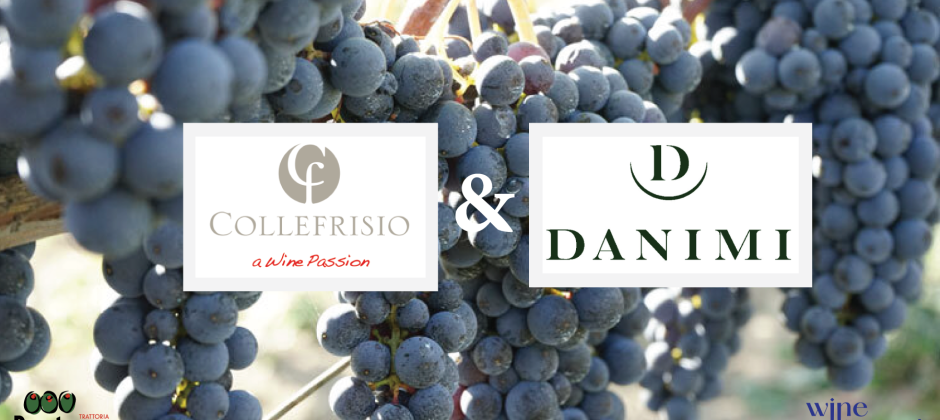 Winemakers Dinner with Italian Danimi & Collefrisio Wineries
Saturday June 25th @ 6:30pm
We welcome you down to Bonterra on Saturday June 25th for a four-course dinner showcasing wines from Italian Danimi & Collefrisio wineries. Chef Kevin Haslar & Glen Manzer are tasting the wines and will develop a delicious Italian menu that brings in the traditional flavours of Italy with local ingredients. Come down for 6:30pm to meet Winemakers/Owners Circo Urciuolo (Danimi) and Amedeo De Luca (Collefrisio), enjoy a welcome glass of prosecco during a cocktail style reception including an antipasti course with dinner starting at 7:00.  
Tickets are $125 plus tax and gratuity (plus any processing fees through eventbrite) and includes a welcome prosecco with antipasti course, and four wines paired with four courses.
Please keep in mind this is a paired dinner. Please notify us if there are any allergies by Thursday June 23rd at 5:00pm and we will do our utmost to accommodate.
We can't wait for you to meet these talented winemakers & try their delicious wines. More on the wineries below.
DANIMI – Camapnia & Puglia, Italy
The name Danimi is comprised of the names of founder Ciro Urciuolo's three children; David, Nick, and Michela. The Urciuolo brothers sold their first vintage in 1996 from grapes grown on land where their family had raised chestnut trees for generations in the foothills of Mount Faliesi. The wines are an excellent expression of ancient varietals of the region, and the new brand represents the next generation of the family.
The winery is located in a part of Campania known as Irpina, and the vineyards for the Danimi brand are scattered throughout Irpina, and also in Puglia, where the Mediterranean climate and choice terroirs make for wines of excellent character. The Urciuolo family has proven their dedication to the indigenous grapes of the region, and to high quality production, which has earned them recognition and outstanding reviews.
COLLEFRISIO – Abruzzo, Italy
Third generation winemakers Amedeo De Luca and Antonio Patricelli joined forces in 2004 to fulfill a passion for the land and the vines of their forefathers. They acquired an existing hilltop estate once owned by the Frisio Family (Hence Collefrisio – Frisio hills) and set about creating a winery that embraces modernity while also honouring the long tradition of winemaking in the extraordinary terrain of Abruzzo. Located in the Chieti province, characterized by warm temperatures during the day and cool evenings. This area is well-known for the Montepulciano grapes which thrive in this climate. Three estates share a 35-hectare vineyard, and the grapes are organically grown in accordance with principles of organic farming, not to make organic wine, but to provide a gentle and non-invasive care to the integrity of the grapes.
"Our idea of wine is home soil, healthy grapes and well cared for vines. These elements allow for the creation of a wine fully reflecting its local characteristics."