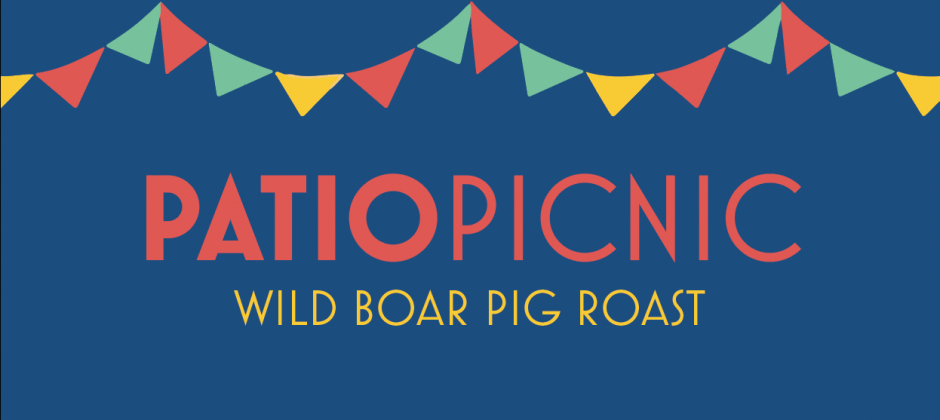 Patio Picnic | Wild Boar Pig Roasts | August 28th
Soak in a sweet August summer night with us at Bonterra Trattoria, al fresco-style on the patio.
Included:
– Welcome Drink (draft or red/white wine)
– Spit Roasted Wild Boar pig from a local farm
– Seasonal antipasti spread. Think fresh local veggies, salads, house-made condiments.
– Dessert selection from our pastry chef
– Meet the farmer from our local Wild Boar Farm in Maythorpe, AB
– Check out the menu below!
Each roast is served family-style and open seating with two seatings available.
5:30-7:30pm & 8:00-10:00pm
$65 + tax & gratuity
Our regular cocktail and entire wine list is available for purchase if you are craving something delicious to pair with the food.
If the weather doesn't cooperate that evening don't worry, we will move the dinner inside so everyone can still enjoy the evening.
MENU
-Finger sandwiches to start
– House cured and imported meats and cheeses
-Beet tartar
-Salmon rillettes
-Grilled romaine salad
-Arancini
-Blue cheese salad
-Caprese salad
-Wild boar meatballs
-Braised boar ravioli
-Chanterelle mushroom risotto
-Boarchetta on the spit
-Sous vide boar loin
-Roasted boar leg
-Corn on the cob
-B.C. cherry salad
-New potatoes
-Buckwheat salad
-Green beans and crispy shallots
-Seasonal fruit pie made