August, 23 at Pumphouse Park, the West Coast Festival of Meats held its inaugural debut in Calgary with Brewery and the Beast — an afternoon of drinks, music and meat-inspired cuisine — aimed to shine the spotlight on locally and ethically raised meats.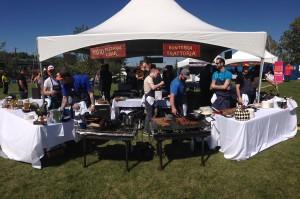 To us, this was a fantastic opportunity to showcase some of the amazing suppliers we count as friends. Not one to do things half way, Chef Ben Mills of Bonterra Trattoria and Posto Pizzeria and Bar decided to butcher an entire water buffalo from Old West Farms for the event.
The process took more than two weeks and was about as farm to table as you can get. Chuck was made into water buffalo sausages to be served on pizza, round was made into a Tuscan Beer Stew, tenderloin was cured as carpaccio for a caprese salad and the whole loin of the animal was pounded and stuffed with goose confit from Double Rainbow Farms, located near Sylvan Lake.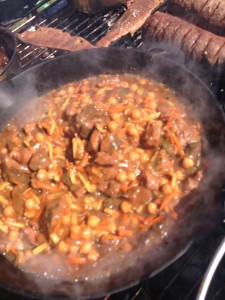 The event itself was a fantastic afternoon with incredible dishes from an extraordinary line-up of chefs. Guests received not only a unique culinary experience, but also the chance to learn more about local farms and meat suppliers who raise animals in an ethical way to produce a superior product.
To learn more about Brewery and the Beast — and the farms featured at the event — visit: http://breweryandthebeast.com/